Bank On Denver is Here for You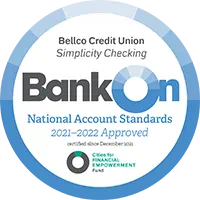 Bellco has teamed up with Bank On Denver, a project of the City of Denver, to ensure that people who need additional help with a banking account have the opportunity, knowledge, and skills to access and successfully use financial products and services that can lead to asset building and long-term financial stability.
Bank on Denver offers financial coaching as well as access to free or low-cost bank or credit union accounts that provide:
No overdraft fee options
Savings accounts
Free bill pay, direct deposit, and check cashing
Mobile banking options to bank from anywhere
Free one-on-one financial coaching, and more
Simplicity Checking Account
Bellco is proud to offer Simplicity Checking—a Bank On Denver certified account that meets Bank On National Account Standards for safe and affordable accounts. Our Simplicity Checking is offered to individuals who have completed Bank on Denver's financial coaching with a certificate of completion*. Simplicity features no overdraft, return item, or account inactivity fees, which help you manage your money and stay in control of your finances.
Simplicity also comes with these money-saving benefits and easy to use tools:
Free Online & Mobile Banking
Free Debit Card
Free ATMs (other bank and ATM operators' surcharges may apply)
Free Remote Check Deposit
Free Bill Pay
Access to Zelle Payment Services
Direct Deposit Available
A2A Transfer Access & Much More
Already have a Bank on Denver certificate and are looking to open a Simplicity Checking account? Stop by any Bellco branch to open your account.