INTRODUCING THE BELLCO BLUE DIAMOND CREDIT CARD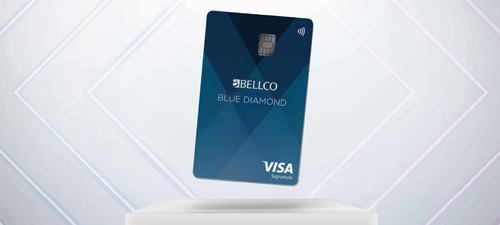 We're very excited to bring you the newest gem in Bellco's credit card portfolio, the Bellco Blue Diamond Visa Signature® credit card. Unlike our other cards, Blue Diamond is a Cash Back rewards card that features UNLIMITED 2% CASH BACK on all Purchases* with no limits on how much you can earn and NO ANNUAL FEE! You can even earn additional Cash Back through Purchases from 43,000+ participating Ampre merchants. Plus, Blue Diamond comes with these great new card perks:
0% APR and No Fee on Balance Transfers: Transfer your balances from other high interest credit cards to your new Blue Diamond card in the first 90 days to get 0% APR for the first 12 months and pay no fee for the transfer!
$200 bonus: Make $2,000 in Purchases on your new Blue Diamond card in the first 90 days and earn an additional $200 bonus.
Your new Blue Diamond card also comes with great benefits already built in, such as extended warranty protection, auto rental collision damage waiver, and exclusive Visa Signature® benefits, including Luxury Hotel Collection, Food and Wine program, and much more.
*"Purchases" do not include balance transfers; cash advances; quasi-cash transactions such as traveler's checks, foreign currency, gift cards or money orders; returned merchandise; ATM transactions; any checks that access your account; overdraft advances; earned interest; unauthorized or fraudulent charges; betting that includes lottery tickets, casino gaming chips, off-track betting and wager; or fees of any kind, including an annual fee, if applicable.
---
GREAT WAYS TO SET YOUR GRADUATE UP FOR SUCCESS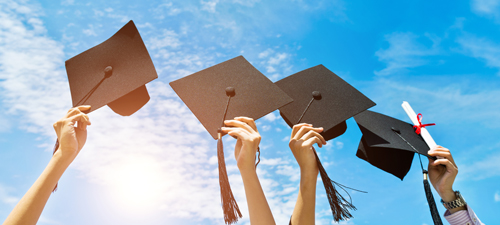 For most Colorado kids, the school year is over, and summer vacation is well underway. And for recent grads, this is the time to start gearing up for the next step in the journey, whether that's starting a job, learning a trade, taking a gap year to reset, or getting ready for higher education. For those moving on to more schooling, costs might well be a big part of the conversation. Bellco has solutions that could help you design your plan to set your student up for success.
One of the best ways to pay for college is through savings. If you've already socked some away, you could be in great shape for the fall. No matter what, though, it's never too late to start (or keep!) saving, and your student can play a role in that too. Through their summer job or any graduation gift money, they can save up to pay for books or expenses that arise as the fall semester starts. And if they do it before June 30, 2022, your student can earn a bonus $100 deposit from Bellco when they open a free student checking account. With this account, they'll get a Visa® debit card, online and mobile access, and no monthly or hidden fees or minimum balances. Plus, the extra $100 they'll earn just from opening the account can give them a little more flexibility to purchase something fun for the dorm room or some extra espresso drinks when studying really amps up.
If savings aren't enough to cover college expenses, though, you might need to explore student loans. Bellco can help there too by providing access to the right Sallie Mae® student loan that can bring you peace of mind knowing your student won't have to worry about finding the money for tuition. With these loans, you and your student can get competitive rates, helpful repayment terms, and no origination fees. Whether you cosign with your student or access a parent loan to pay for their schooling, you can find the right loan to fit your tuition plan.
---
WHAT RISING INTEREST RATES COULD MEAN FOR YOU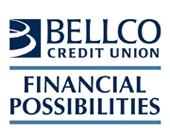 As a not-for-profit, Colorado-based financial cooperative, Bellco is committed to providing tools and resources to help our members and the community feel financially empowered. One way we've done this is by collaborating with Denver7 to provide communities across Colorado with helpful financial tips.
As you may have heard, the Fed recently raised interest rates again with plans to raise them several more times this year. In a recent segment with Denver7, we highlight what these interest rate increases could mean to you and your bottom line. You can view the segment below:
To learn more about a wide array of financial topics, you can visit our MoneySmarts page.
---
HOW LONG YOU SHOULD KEEP FINANCIAL DOCUMENTS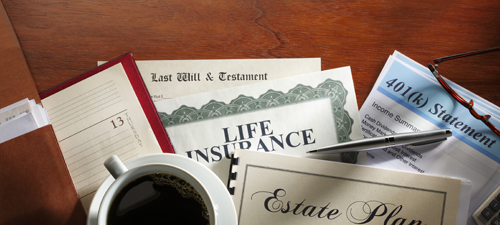 By CUSO Financial Services, L.P. (CFS)**
If you've ever had trouble finding an important financial document, you know why it's necessary to keep your financial records organized. Below are some guidelines from CFS* Financial Advisors, on how long to keep documents. This list is not all-inclusive, and these are just broad guidelines; you may have a good reason for keeping some records for a shorter or longer period of time.
Records you may want to keep for a year or less include bank or credit union statements, credit card statements, utility bills, and annual insurance policies.
Records you may want to keep for more than a year include tax returns and supporting documentation, mortgage contracts and supporting documents, receipts for home improvements, property appraisals, annual retirement and investment statements, and receipts for major purchases.
Records you may want to keep indefinitely include birth, death, and marriage certificates; adoption papers; citizenship papers; military discharge papers; and social security cards.
The CFS* Financial Advisors at Bellco, available through CUSO Financial Services, L.P. (CFS)*, provide the tools and support to help members and their families achieve their financial goals. Call 303-728-3443, email omillradt@cusonet.com, or stop by any Bellco branch to schedule a personalized complimentary appointment with a CFS* Financial Advisor.
**Non-deposit investment products and services are offered through CUSO Financial Services, L.P. ("CFS"), a registered broker-dealer (Member FINRA/ SIPC) and SEC Registered Investment Advisor. Products offered through CFS: are not NCUA/NCUSIF or otherwise federally insured, are not guarantees or obligations of the credit union, and may involve investment risk including possible loss of principal. Investment Representatives are registered through CFS. Bellco Credit Union has contracted with CFS to make non-deposit investment products and services available to credit union members.
CUSO Financial Services, L.P. (CFS) does not provide tax or legal advice. For such guidance, please consult your tax and/or legal advisor.