February 2022 Newsletter
THE COLORADO GARDEN & HOME SHOW IS BACK!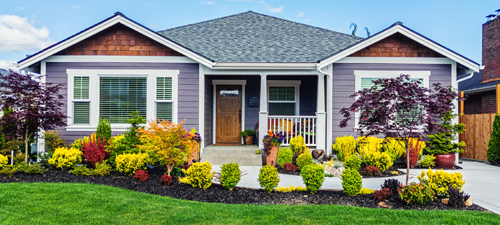 It's time to gather your garden and home-remodeling plans and head to the Rocky Mountain region's oldest, largest, and most prestigious home show, the Colorado Garden & Home Show. Bellco is proud to be the presenting sponsor of this nine-day event at the Colorado Convention Center, February 12–20.
NEW FOR 2022
Bellco members get Free Admission for Two when they present their Bellco debit/credit card or mobile app at the ticket window!
This year, we've invited Bellco Home Loans (BHL) to have our booth space! BHL is a collaboration between Bellco Credit Union and Cherry Creek Mortgage, an independent mortgage lender that's been helping families attain home ownership for over 30 years.
Experience this year's "YMCA of Metro Denver" Entrance Garden presented by Bellco Credit Union.
GETTING READY FOR THE SHOW
If you're looking to access the equity in your home for your remodeling projects or larger home show purchases, Bellco members can take advantage of these two money-saving products:
HOME EQUITY CHOICELINE—Get a fixed rate as low as 3.99% APR* on an advance of $10,000 or more. Get the full details and get started at Bellco.org/ChoiceLinePromo.
PERSONAL SIGNATURE LOAN—Get rates as low as 4.99% APR* with no closing costs and flexible terms. Learn more and get started at our Signature Loan page.
For more information about the show and offers, visit Bellco.org/homeshow.
*Advertised Annual Percentage Rates (APR) are for well-qualified borrowers and subject to change without notice. All loans subject to approval. Membership eligibility required.
---
MAKING AN IMPACT WITH FOOD BANK OF THE ROCKIES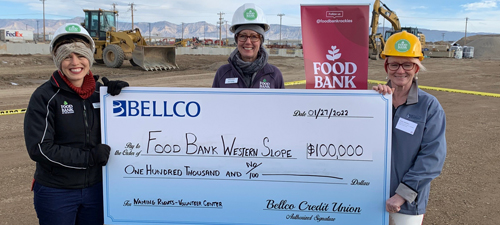 At Bellco, we are focused on making an impact within our communities in the areas of financial education, quality of life, and arts and culture. When it comes to improving the quality of people's lives, providing basic needs like food, water, and shelter to those in need is one reason why Bellco is proud to partner with Food Bank of the Rockies—an organization working to fight hunger throughout Colorado.
Just recently, Bellco announced a major gift of $100,000 to Food Bank of the Rockies to support the construction of their new Western Slope Distribution Center.
The Food Bank of the Rockies Western Slope Distribution Center will be a 50,400-square-foot warehouse and food distribution center that will allow Food Bank of the Rockies to relocate from its existing 28,600-square-foot facility in Palisade. The larger, modernized space will also include a Volunteer Center, made possible by Bellco, to help recruit and train volunteers.
To learn more ways Bellco gives back, visit our Bellco Gives Back page.
---
THE FINANCIAL POSSIBILITIES OF SAVINGS PRODUCTS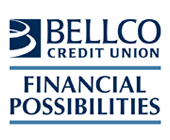 As a not-for-profit, Colorado-based financial cooperative, Bellco is committed to providing tools and resources to help our members and the community feel financially empowered. One way we've done this is by collaborating with Denver 7 to provide communities across Colorado with helpful financial tips.
With holiday spending behind us, now is a great time to start thinking about saving. A recent Denver7 segment offered suggestions on helpful savings products for a variety of savings needs. You can view the segment below:
For more resources and information on ways to save and budget, you can visit our MoneySmarts page.
---
SMARTER INSURANCE FOR MEMBERS STARTS HERE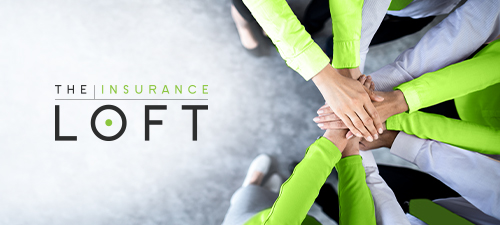 Our hearts are open to those impacted by the Marshall and Middlefork fires. Yet again, Coloradans have come face to face with the sobering reminder of how quickly our environment can change. Stories surrounding wildfires report injuries, property damage, and displaced families.
What we don't hear about is the underlying battle that begins after the smoke clears. Insurance policies with inadequate coverage, massive out-of-pocket costs, and a host of exclusions, leaving many Coloradans struggling to make ends meet. The fact is, purchasing insurance in Colorado is a daunting task. So we compiled a list of five things every Coloradan can do to obtain insurance responsibly.
Take Your Time. There isn't a "normal" or "basic" policy for Coloradans. The right approach is different for everyone. It's essential to ask questions and research the insurance carrier and agent.
Value vs. Cost. The lowest cost does not equal the best policy. Insurance is complex, and each policy contains fundamental differences. It's okay to be budget-conscious, provided the coverage is well understood.
Seek Expert Help. Connect with a reputable advisor familiar with Colorado to create a custom insurance plan. At The Insurance Loft, our only focus is protecting our clients with the right insurance policy from the best carrier.
Keep Up With Changes. Coloradans should review their insurance annually to keep up with the constant changes. Bellco members can utilize The Insurance Loft to review any policy at no charge and without obligation.
Take It Seriously. Clients are responsible for obtaining accurate coverage, not the insurance carriers. Coloradans have a unique burden to get their insurance right before coverage is needed.
We know preventing catastrophes isn't a reality, but taking a more intelligent approach to insurance is. As a Bellco member, our experts will review more than 15 different insurance carriers to find the right solution for you. Moreover, all Insurance Loft clients receive an automatic annual review to ensure they get the best policy at the best value.
Click to schedule your complimentary review or get a quote online to activate an expert insurance advisor right here in Colorado. Prefer to talk with an advisor? Give us a call at 1-888-808-6475 or schedule an appointment!